The Pangborn RotoDrum Blast Cleaning Machine is first in class for cost-efficient, space-saving blast cleaning innovation. Designed with state-of-the-art innovative features.
Pangborn's world-leading RotoDrum Blast Machines are durable rotating drum machines with versatile drum design, which allow efficient tumbling of work pieces with no pinch points, catch points, or sharp edges.
Features and Benefits: RotoDrum Blasting Machine
The RotoDrum Blast Cleaning Machine boasts a wide range of features, each designed to maximise return on invest, productivity and longevity.
Adjustable Turning Dynamics
Starting with adjustable turning dynamics, which are achieved by an innovate automated drum angle adjustment, adjustable drum speeds (VFD) as well as, replacement tumble actuator (to suit product shapes), as shown below.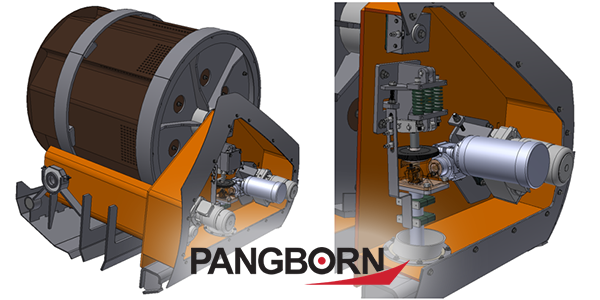 The RotoDrum itself is fabricated from up to 20mm thick manganese steel, solid welded drum (zero catch points, no sharp edges to nick or damage parts), alongside the ability for customisable drum drains.
Abrasion Resistant (AR) Steel & Removable Screen Baskets
Design and fine fabrication are once again in complete combination when it comes to forward thinking, innovative manufacturing. The RotoDrum steel fabrication also features removable screen baskets in the reclaim hopper and Abrasion Resistant (AR) steel for;
Reclaim screw flighting
Reclaim hopper
Replaceable liner in elevator down side
Drum pivot frame inside the cabinet
Wide Blast Pattern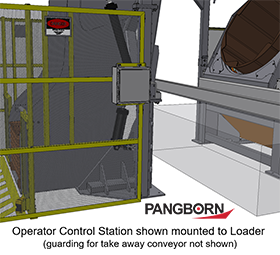 Canted vanes are available for the RotoDrum Blast Cleaning Machine, which permit a wider blast pattern to be achieved, as well as shorter cycle times and better cleaning ability.
The RotoDrum Blast Cleaning Machine also features an easy to access and operate PLC HMI operator interface which is mounted to the loader, as shown below.
Replaceable manganese door liner & Door Labyrinth Seal
Another forward-thinking attribute designed into the RotoDrum Blast Cleaning Machine is the replaceable manganese door liner and the door labyrinth seal.
In additional to the above features the RotoDrum Blast Cleaning Machine is designed fully enclosed with a tubular frame structure.
Two Stage Hydraulic Loader 
Another main feature that sets the RotoDrum apart from all others in the market is the safety-focussed and convenient, two stage hydraulic loader. Pangborn also offer optional vibratory low impact loading systems.
The two stage hydraulic loader is designed with extra wide floor space between the machine and loader, which provides customer far better access in between.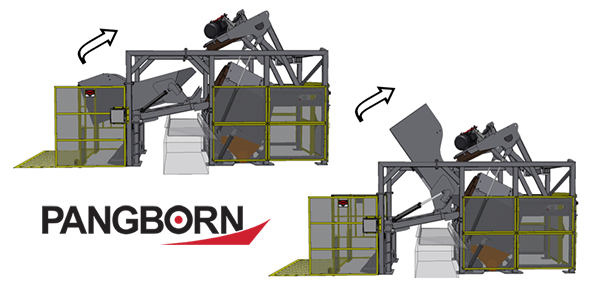 Safety Area Scanner
When it comes to safety there can be no corners cut or potential situations overlooked.
The Pangborn RotoDrum Blasting Machine features another state-of-the-art innovation with a safety centric, safety area scanner – which is fitted in front of the loader standard.
We've also engineered the loader bucket to be completely flush with floor level.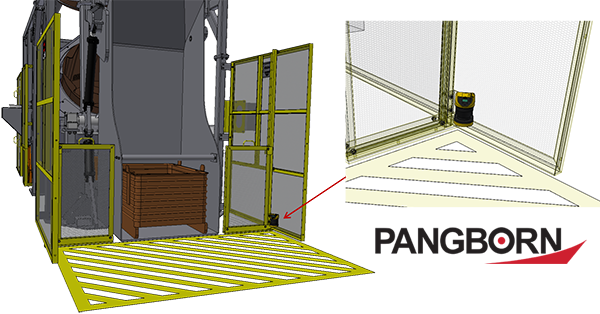 Ventilation, Duck Work and Slide Gates
Another first-class engineered attribute designed to maximise return on investment with your RotoDrum Blasting Machine, is the cabinet down draft ventilation system.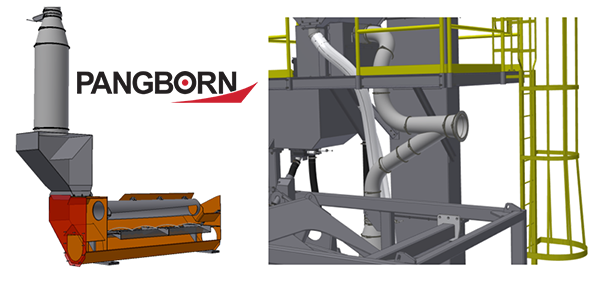 Each RotoDrum blasting machine is also supplied with duck work and slide gates to centralized ventilation pick-up points.
Finishing Processes and Applications
The RotoDrum Blast Cleaning Machine is a future-proof solution for a wide and varied range of applications. These range from and include;
Ideal for processes including deburring, descaling, cleaning, and surface preparation
Ferrous and non-ferrous castings, heat treated forgings, small automotive parts, and die castings
Shot peening mass production components / bulk goods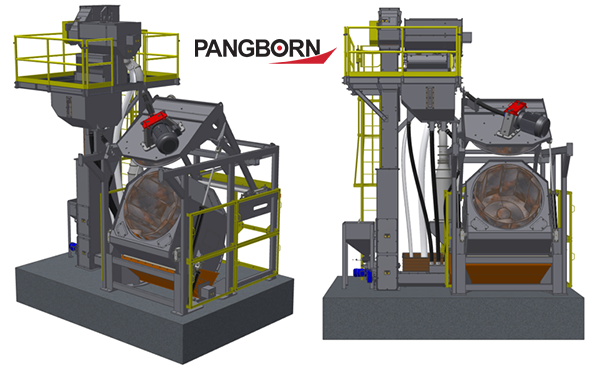 Arrange a Consultation
If you'd like more details on the Pangborn RotoDrum Blast Cleaning Machine manufactured and supplied by Pangborn UK. Get in touch to arrange a consultation, email us at: info@pangborn.co.uk or contact us on – 01352 712412.