Pangborn are the UK's leading shot blasting manufacturers, product suppliers and service providers, based in Holywell, Flintshire.
As the UK's leaders in the field of shot blasting equipment and services we specialise in providing superior shot blasting solutions to customers throughout the UK and overseas.
Pangborn UK are part the global Pangborn group with the ability to supply standard to unique solutions to suit all applications. Supported with first-class service and unrivalled aftermarket support.
Our UK based plant not only provides shot blast machinery manufacturing. We also stock and supply all types of smaller components ranging from; full custom designed blast equipment to the smallest replacement air nozzles, dust collectors, filters, abrasives and operator PPE.
Superior Shot Blasting Technologies
Pangborn manufactures, supplies and services all types of industrial shot blasting machinery and surface preparation equipment. We cater for a vast array of industries and sectors ranging from; foundry and forge, construction, shipbuilding and automotive to heavy haulage, heavy plant, rail, defence, oil and energy.
Within our UK based plant we design and manufacture a wide range of shot blasting machines, equipment, replacement parts and accessories. Our manual shot blast equipment includes;
Blast Pots
Blast Hoses
Blast Pot Spares
Nozzles
Shot Blast PPE

The most well-renowned and globally-known solutions manufactured by Pangborn are our Automatic Shot Blasting machines. These include standard solutions and systems, as well as completely bespoke machinery designed from the ground up, to meet your exact needs and specifications.
Automatic Shot Blast machines, tables, barrels and rooms are by far our most manufactured and supplied solutions. These include;
Belt Conveyor Machines
Diabolo Roller Cleaning Machines
Hook Blast Cleaning Machines
Horizontal Blast Cleaning Machines
Vertical Blast Cleaning Machines
Rotoblast Barrels
Rotoblast Tables
Bogie Table Rooms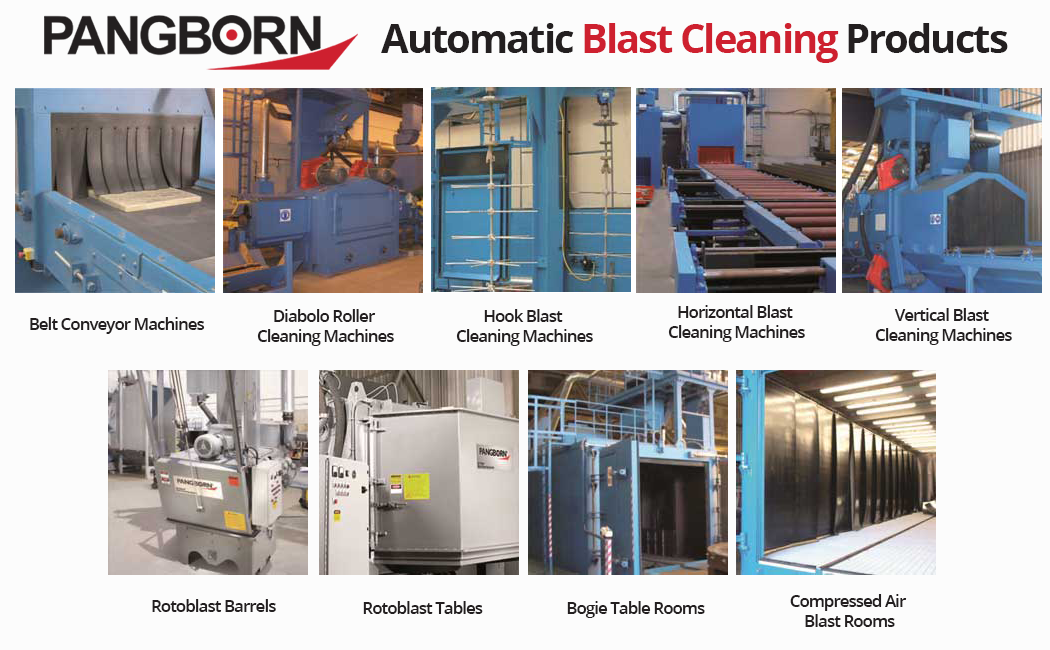 Shot Blast Servicing & Aftermarket Support
We don't just manufacture, stock and supply, Pangborn UK offer an extensive range of aftermarket support services.
Our made-to-measure service plans operate 24hrs a day, with an on-demand, rapid response breakdown service. Making sure your equipment is as reliable as the business you provide.
'Centuries of superior quality, service and support are at the forefront of all Pangborn systems and machinery'.
More Details
If you'd like more details on the wide range of superior shot blasting technologies, products, equipment and machinery manufactured, supplied and available from Pangborn UK division. Contact us on – 01352 712412 or email us at: info@pangborn.co.uk we aim to respond to all online enquiries – the same business day.